I enjoy enabling people to live uniquely satisfying lives that matter.
Justin Tomlinson is a professional facilitator, author and speaker.
Known as A Digital Nomad, who loves creating value on an international scale.
Former Manager of Continental Europe for FranklinCovey and now founder of ValueAdd group in Switzerland. A known problem solver with an unorthodox approach involving meetings on horseback and boats instead of boardrooms, has made Tomlinson a sought after advisor. He's earned loyal clients who value his candor and business savvy combined with his obvious love of life.
Facilitating board level workshops and leadership team meetings, advising on the people side of strategy implementation and designing large-scale events, Justin helps organizations eliminate "fake work". Fake work that sucks the life out of people, diminishes their sense of purpose and kills organization productivity.
Justin is the co-author or the Live with Intent, Creating Your Future and See Do Grow, A Pattern for Living a Life Matters.
Your business can only grow to the extent you grow. Create a future without fear or self-doubt clouding the picture. You are the value add. Find your unique horizon and pursue it together with people you enjoy.
Leadership teams establish a rhythm of executive decision making, keeping commitments that build trust and consistently inspiring their organization in achieving meaningful results.
Individuals grow their personal brand and value add aligned with the work they are good at and enjoy doing.
Create a future of living a life that matters
A Pattern for Living a Life that Matters
This book is simple and very complex. It is profound and fun. It is sweet and shocking…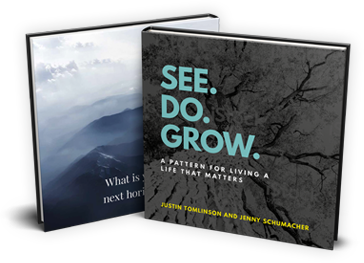 The Live with Intent authors tap into their deep experience to help people create a roadmap…