Highly Trusted Facilitator
"Justin is a maverick with big, bold ideas.
His talent is to go deep inside companies and add serious value."
Stephen M. R. Covey, in New York Times bestselling author of the Speed of Trust and coauthor of Smart Trust
Top Global Facilitator
"Justin's clients have stayed with him for two decades.
He is one of the most influential facilitators I have experienced because of the impact he has on both people and business."
Henrik von Scheel, Originator of the 4th Industrial Revolution and mastermind of the digital agenda today
Professional Facilitation
"Justin's facilitation style is like that of a professional waiter in a fine restaurant. He anticipates your needs without interrupting your discussion."
Thomas Reichart, Friend, Business Partner and Co-Author of Live with Intent
Intentional Facilitation
"Justin is very intentional in how he facilitates. He has an extremely unique ability to inspire, stretch and grow people in a way they feel good about."
Alvaro Soto, Sub Regional Head LATAM - Roche Pharmaceuticals.
Justin Tomlinson is a professional facilitator, author and speaker.
Known as A Digital Nomad, who loves creating value on an international scale.
Former Manager of Continental Europe for FranklinCovey and now founder of ValueAdd group in Switzerland. A known problem solver with an unorthodox approach involving meetings on horseback and boats instead of boardrooms, has made Tomlinson a sought after advisor. He's earned loyal clients who value his candor and business savvy combined with his obvious love of life.
5. January 2019
Coming Soon:  2019 Business Adventure Schedule.  Stay tuned toward the end of January.
Create a future of living a life that matters
A Pattern for Living a Life that Matters
This book is simple and very complex. It is profound and fun. It is sweet and shocking…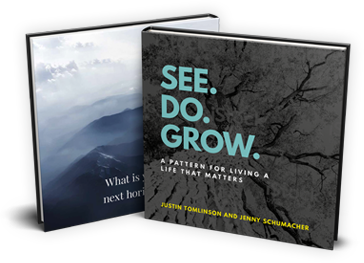 The Live with Intent authors tap into their deep experience to help people create a roadmap…